Shop access
While in Onna-Village Okinawa why don't you try snorkeling and kayaking?
In Malibu beach you will find our shop named "Aruguide Okinawa".
We have a free parking in front of the shop.
Let's enjoy marine sports together.
Car navigation system
Please do not use our phone number or address to find us on your GPS or you will find yourself somewhere else, use instead the MAPCODE.
MAPCODE → 206 034 669
From Naha Airport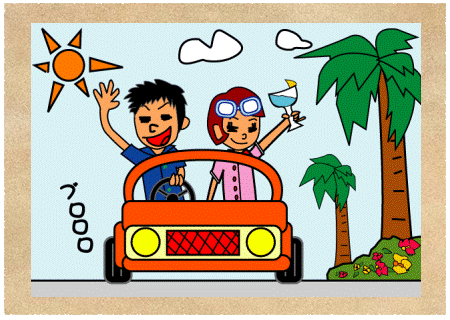 Drive north from Naha on Route 58 for around 1 hour.
Arrive at Onna Village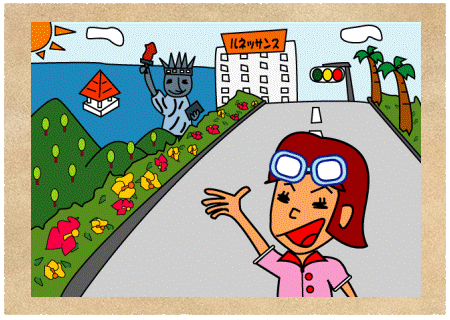 As you arrive in Onna Village, you will see the ocean and notice a small Statue of Liberty on the left-hand side.
When you see the hotel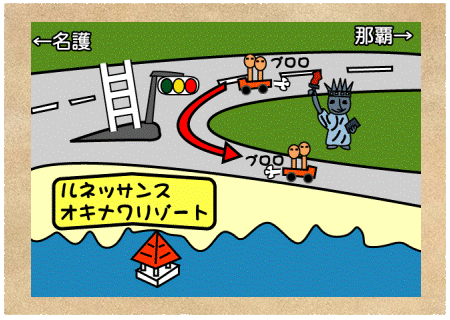 Turn left when you see the Renaissance Okinawa Resort.
Arrive at Aruguide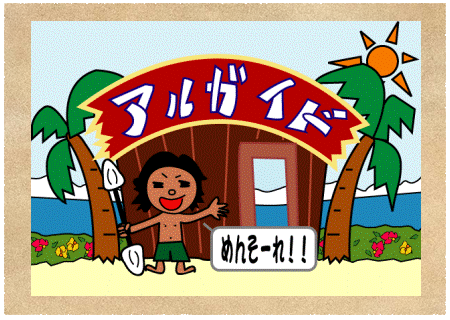 Drive on this road for a little while, and you will find Aruguide on the right-hand side. We have a large parking lot for your use. Now that you have found us, it is time to set out on your adventure!
Transit time
Please ask us about our pick-up service in advance.
From the airport

Naha Airport
↓
Get on the expressway at the Naha Interchange.
↓
Exit at the Ishikawa Interchange (Exit 6).
↓
When you come off the expressway, turn right onto Route 73, following signs towards Onna and Nakadomari.
↓
After 2.2 km turn left onto Route 58 towards Kadena and Yomitan.
↓
After 1.7 km, turn right at the Yamada intersection (towards the Renaissance Okinawa Resort).
↓
You will find Aruguid beside Malibu Beach. It takes around 70 minutes by this route.

Naha
Naha City on the expressway

50 minutes

Naha City on surface roads

60 minutes

Loisir Hotel
Kokusai Street

Ginowan City

40 minutes

Chatan Town

30 minutes

Onna Village and Yomitan Town

Up to 20 minutes

Hotel Nikko Alivila
Okinawa Zanpa Misaki Royal Hotel
Hotel Moon Beach
Sunmarina Hotel
Rizzan Sea-Park Hotel Tancha-Bay
ANA InterContinental Manza Beach Resort

North side of Onna Village

30 minutes

north side of Onna Village
Okinawa Kariyushi Beach Resort Ocean Spa

Nago City center

50 minutes

East side of Nago City

70 minutes

Motobu Town

75 minutes

Okinawa Churaumi Aquarium