Stand Up Paddle adventure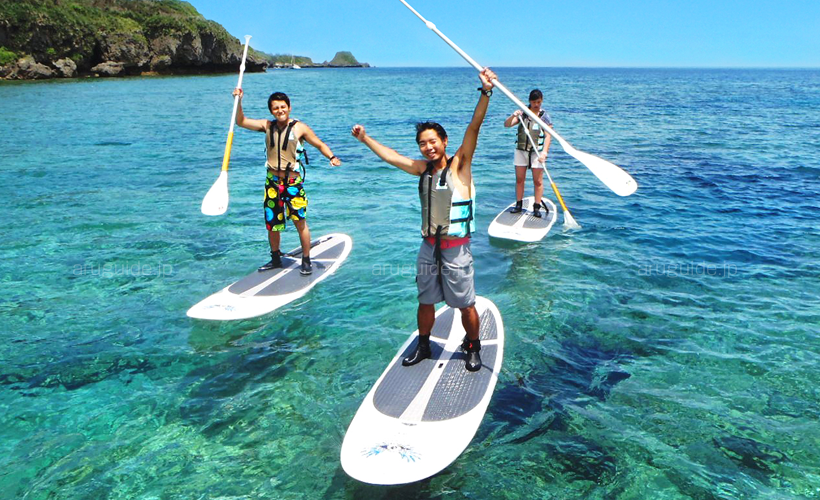 From the SUP if there are no waves, you can admire the wonderful coral and fishes.
Let's enjoy the Okinawan landscape during a SUP adventure.
★Highlights of this tour★
Tour details
Adventure name
Stand Up Paddle adventure
Duration
Around 1½ hours
Check-in time
① 8:30 ② 10:30 ③ 13:30 ④ 15:00
※We can adjust the check-in time according to your schedule. Please contact us if you require a later or earlier check-in time.
What to bring

☆What to bring

・Swimwear and towel (needed after showering)
・Bring an extra T-shirt as you may get wet on this adventure. Swimwear can be worn underneath.

☆For those worried about sunburn

・Sunblock
・Hat (We recommend one that will not fly away in the wind.)
・Bring an extra T-shirt as you may get sunburned and wet on this adventure. (When we go kayaking, we will take off wet suits down to the waist, so our upper bodies are likely to see a lot of sun and get wet.)※We supply free marine boots.

☆People getting car or sea-sick easily

Please bring your own medicine for sea sickness

price
5,500 yen (Option 1,500 yen @30min)
Inquiry
Please note
・Course content is subject to change, based on weather or sea conditions.
・If you wish to take pictures during the adventures, we recommended you use a water-resistant camera.
For safety do not bring your

cellular phone

, you might lose or break it.
・We offer our customers to remember and share those unforgettable memories with a CD of pictures taken during the adventure by the guide.
You can order this service by advance or when you arrive.(Price: 2,500yen)
・If you are under treatment or currently ill, please check with your doctors if you can join any tour we propose and ask him to write a medical certificate.
・Pregnant woman are not allowed to join any activities.